Description
9,5 mm / 6,0 mm
22330.0875 / 0877 / 0879 / 0881
VAT included,
plus shipping cost

Suitable for: Sling width 23 mm
Colour options: Black
Available options:

Socket, fixed position
Socket, rotatable
Sling swivels and flexible mounts can be used to connect slings. It is possible to thread slings into both sling swivels and sockets with swivels and connect and disconnect them with a press of a button, e.g. to attach a leash or collar. The tensile force is 100 kg.
Please note:
Sling swivels are NOT included in the delivery.
You can order these separately (Sling swivels without sockets).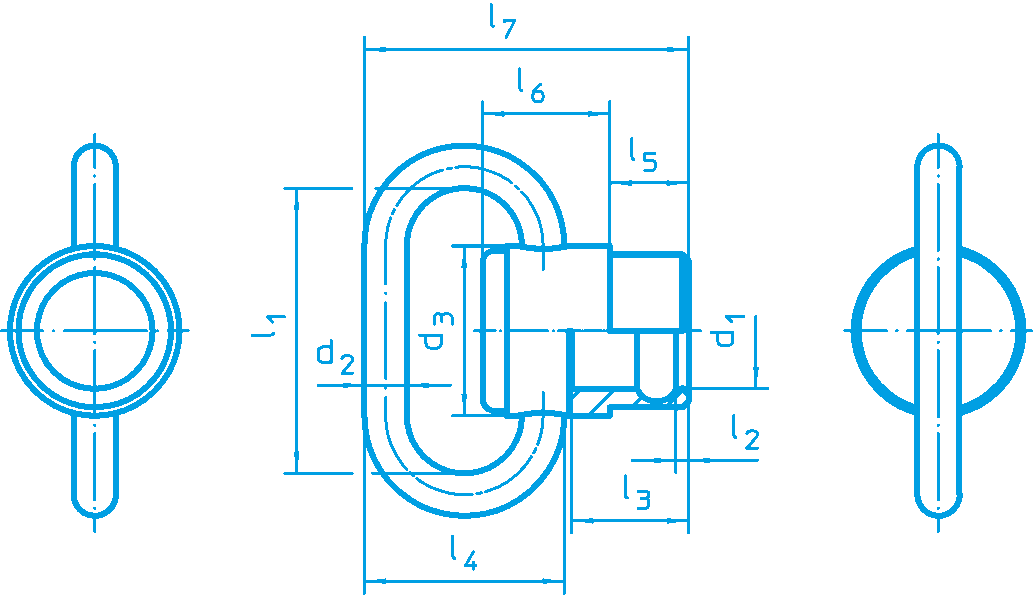 DETAILED INFORMATION FLEXIBLE MOUNT ROTATABLE

Diameter [mm]
Dimensions [mm]
Load capacity [kN]
Temperature [°C]
Weight [g]
d1
l1
l2
d2
d3
l3
l4
l5
l6
l7
l8
max.
min.
max.
9,6
23
1,0
3,5
14
9,6
16,5
6,5
10,5
26,8
-
1,2
-50
150
16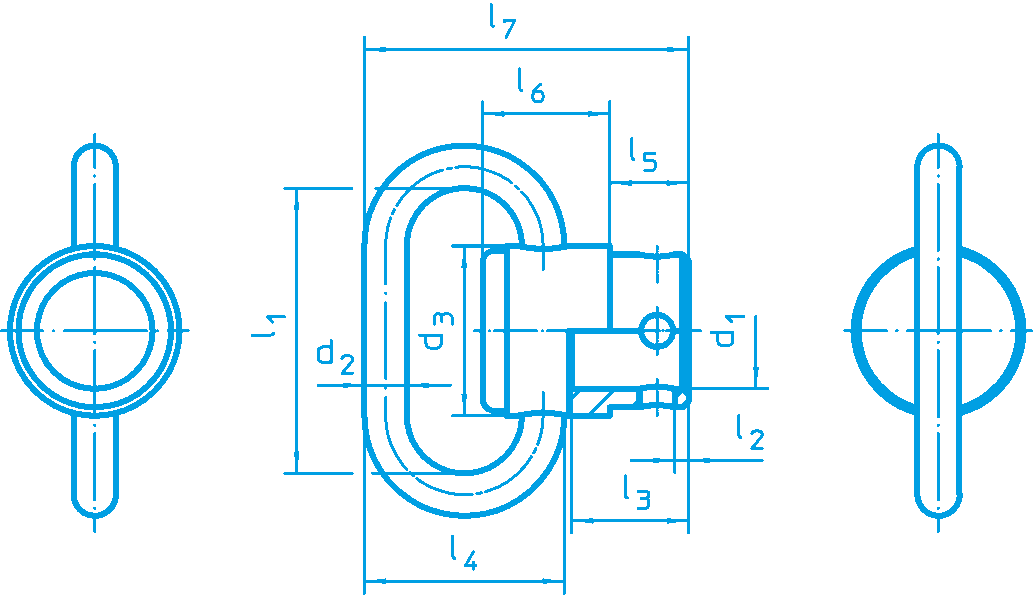 DETAILED INFORMATION FLEXIBLE MOUNT FIXED POSITION

Diameter [mm]
Dimensions [mm]
Load capacity [kN]
Temperature [°C]
Weight [g]
d1
l1
l2
d2
d3
l3
l4
l5
l6
l7
l8
max.
min.
max.
9,6
23
1,0
3,5
14
9,6
16,5
6,5
10,5
26,8
-
1,2
-50
150
16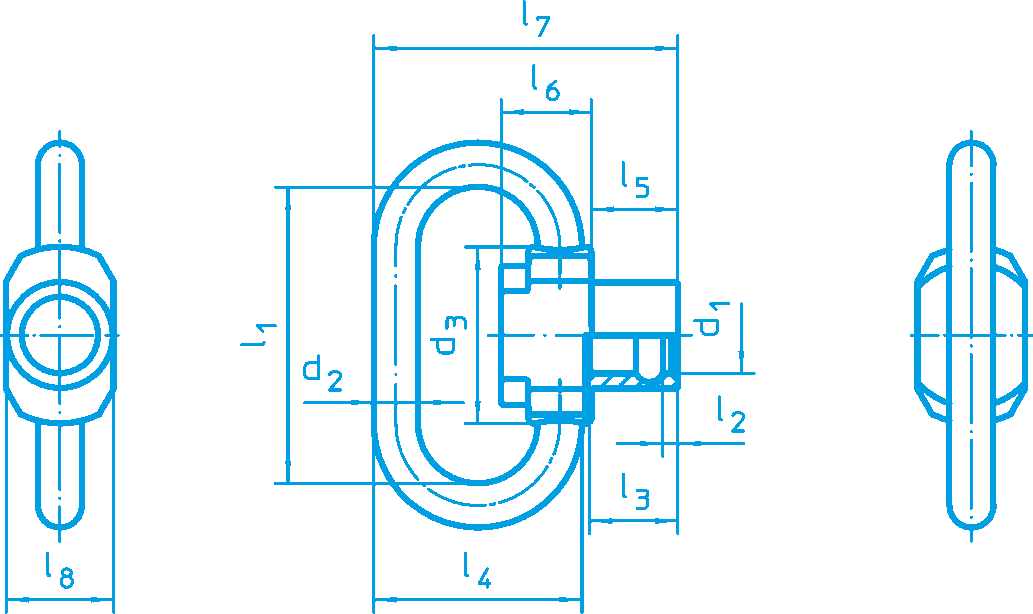 DETAILED INFORMATION FLEXIBLE MOUNT ROTATABLE

Diameter [mm]
Dimensions [mm]
Load capacity [kN]
Temperature [°C]
Weight [g]
d1
l1
l2
d2
d3
l3
l4
l5
l6
l7
l8
max.
min.
max.
6,1
23
1
3,5
14
7
16,5
6,8
7,2
24,1
8,5
1,2
-50
150
10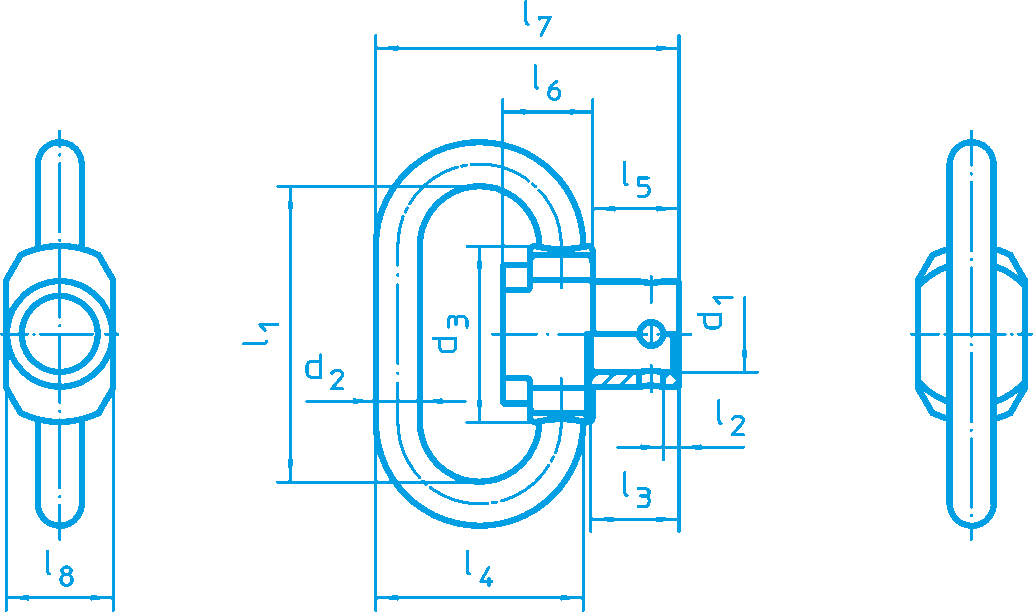 DETAILED INFORMATION
FLEXIBLE MOUNT FIXED POSITION
Diameter [mm]
Dimensions [mm]
Load capacity [kN]
Temperature [°C]
Weight [g]
d1
l1
l2
d2
d3
l3
l4
l5
l6
l7
l8
max.
min.
max.
6,1
23
1
3,5
14
7
16,5
6,8
7,2
24,1
8,5
1,2
-50
150
10
Pin part:
Stainless steel 1.4305, black
Stainless steel 1.4305
Spring:
Stainless steel
Stainless steel 1.4305, black
Stainless steel 1.4305