Description
PUSH & GO


Multi-adapter +
combi socket
9,5 mm / 6,0 mm
22330.0590 – 22330.0593
TAX excluded,
plus shipping cost
Suitable for: Combi socket
Color: Black
Available options: Socket 9,5 mm
Socket 6,0 mm
A bipod and other components* can be attached to the multi-adapter e.g. action camera, IR illuminator. The multi-adap­ter is attached to the front shaft via the 9.5 mm locking pin which is inserted in the combi socket. The combi socket is compa­tible with the PUSH & GO products in the sizes 9.5 mm and 6.0 mm. Up to three Picatinny rails can be mounted on the multi-adapter. There are two PUSH & GO sockets on the underside, either 9.5 mm or 6.0 mm in size. The rear one is for attaching a sling swivel. The front one can be used instead of a Picatinny rail to mount the stud adapter, e.g. for mounting a bipod. Being made of aluminium and titanium, the multi-adapter as well as the combi-socket are very light.
Make sure to observe the minimum distance to the barrel in the installation instructions!
*The valid legal regulations must be observed.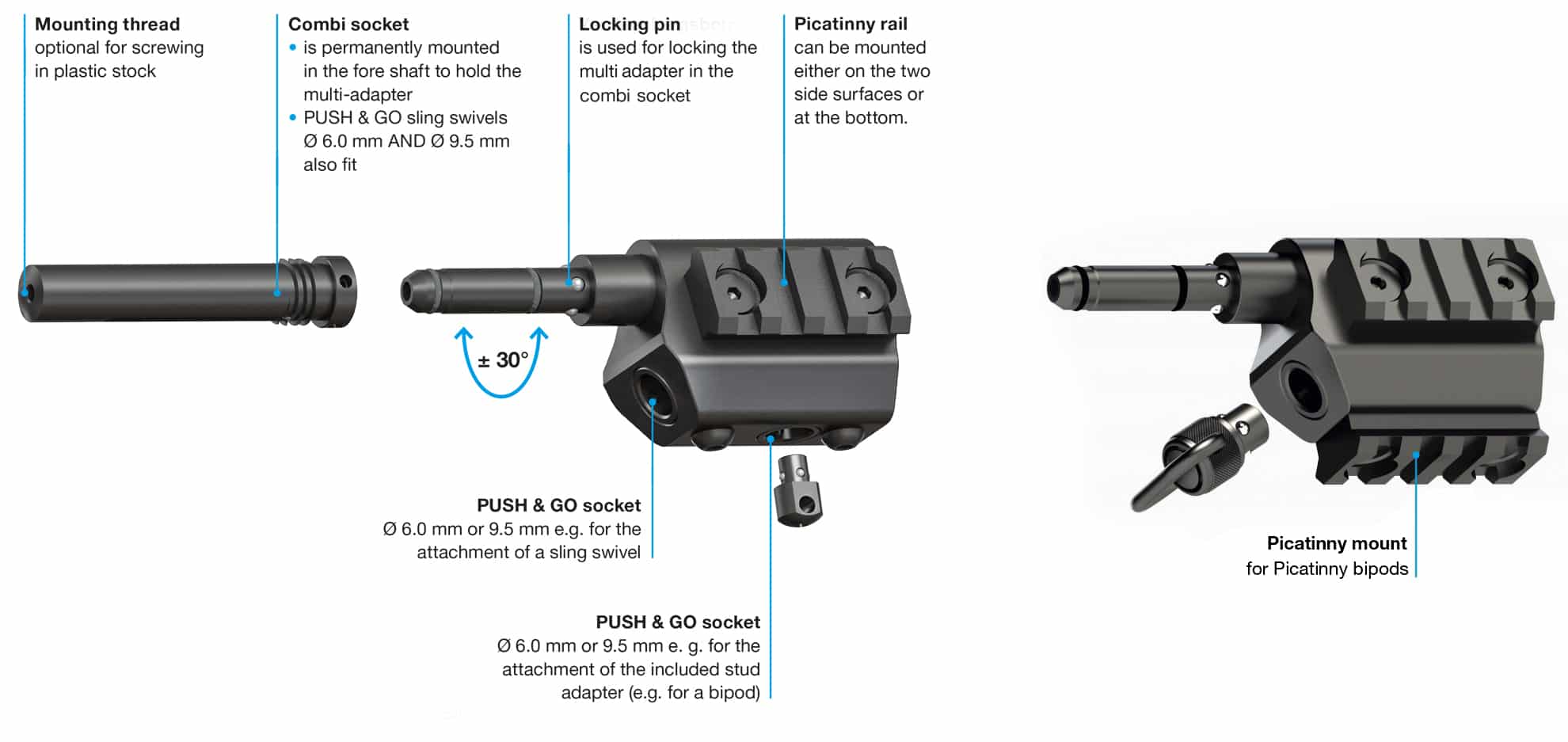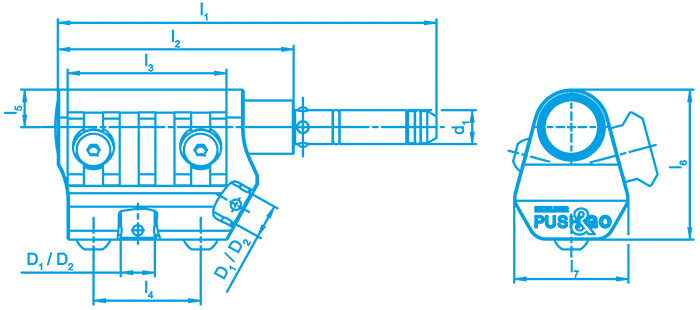 DETAILED INFORMATION
MULTI-ADAPTER 9,5 MM / 6,0 MM
Dimensions [mm]
Weight [g]
d1
l1
l2
l3
l4
l5
l6
l7
D1
D2
9,5
106
66
45
30
10,5
42
32
9,6
6,1
6,384479

DETAILED INFORMATION COMBI SOCKET 9,5 MM + 6,0 MM FIXED POSITION

Dimensions [mm]
Weight [g]
D1
D2
d1
d2
d3
l1
l2
l3
D3
D4
9,6
6,1
12
15
15
72
5
min. 75
15
13
0,804246
Body:
Aluminium, black
Sleeve:
303 stainless steel, black
Pressure bolt:
304 stainless steel
Spring:
Stainless steel
Ball:
Stainless steel
Pin:
Stainless steel
Sealing:
NBR
Body:
Titanium, black
Socket:
303 stainless steel, black
Spring:
Stainless Steel
Pin:
Stainless steel
Sealing:
NBR